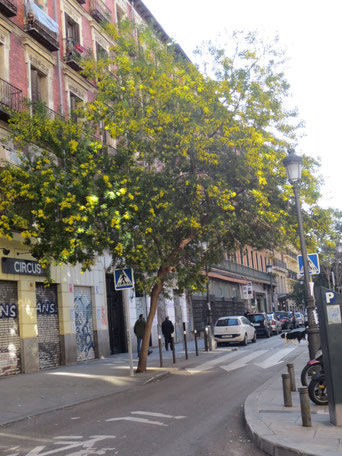 This is my first entry, a report about the competition in Madrid. Have a look at it, maybe we'll see each other there next year ;-)
The Competition
The event takes place in Madrid Mariott Auditiorium Hotel, which is very convenient if you manage to get a room in the hotel. If I had to describe the competition in a few words, it would be "comfortable but choatic". On our first day of the competition we had to wait in the queue at the check-in for over an hour. Shortly before it was our turn, other couples from a different competition were allowed to check-in first in order to  keep up with the schedule. The waiting time for the other couples expanded towards infinity which was very annoying. However, this incident was the only trouble we had to face. The competition took place in a nice atmosphere, the hosts spoke english well and they were on schedule. The floor was large enough, music and air was fine. The Spaniards seem to be innovative, they tested a new mode in the Rising Stars competition. There were eight couples in the final, in which two couples danced two dances against each other in a battlemode. The four winners did a battle again, but in three dances. In the end there where only two couples left, who danced a final battle with five dnces against each other.
The Hotel
The Mariott Auditorium Hotel is a really nice one. You can have a double room for approximately 120€ a night. The breakfast buffet will satisfy even the most demanding ones (15€ per Person).
Anyway, if you want to spend a night cheaper, you can have a double room for about 70€ in the B&B Hotel. The breakfast is okay. You can get to Mariott in about 15 min. by foot.
I cannot recommend the Hotel Los 5 Pinos, except you don't need breakfast and you don't care walking over the motorway.
The City
The inner city center is just one adventurous bus and subway journey away - approx. one hour.
Madrid is recommendable in winter, it has 5-10 degrees in January. Madrid hasn't any extremly famous sights, but a lot of art and museums. The city has a charming center. My personal highlights were the markethalls and the railway station Atocha with it's beautiful palms and turtles.
If you want to go for dinner in Madrid be aware that the restaurants open at 8:30 pm at the earliest. You should try paella and churros. In my opinion, however, the a little expensive tapas are the best. And the Spaniards seem to love hamburgers, although they are surprisingly slim.
Costs
You can fly from Vienna for 150€ per person (nonstop).
Doubleroom: from 70€ per night (B&B Hotel)
Starting Fee: 40€ per day