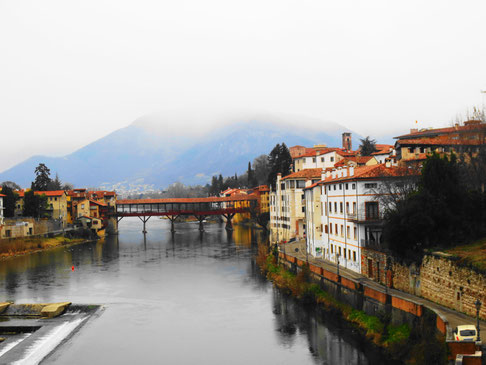 Last week we paid a little visit to Bassano del Grappa. A rather not-so-short journey of 7 hours to the beauties of Italy…
The Comp
If you hadn't suffered of eye problems until now, after visiting the organizer's webpage you certainly will. Not a single color was omitted in this fireworks festival. Unfortunately, apart from a mixture of languages and not-information, you will probably not be able to find anything. Those who manage to put up with the Cirque du Soleil fanpage will have the possibility to spare 20eur by paying the starting fee until about 2 weeks before the competition begins. You are supposed to send the receipt via email but since your message most probably lands in the junk mail, you still have to bring a physical copy with you.
At the check-In everything went totally smoothly. We even had the same number for both days, so we were able to spare ourselves the "get-it-straight-this-time" game on the second day.
The toilets might offer a little surprise for the not so tough ones among you. I only found two "normal" toilet basins in the whole building, one of which was so dirty you might start to wonder whether you hadn't taken a wrong turn and landed at a rock festival. The other toilets you could choose from were actually just holes in the floor. This doesn't come very handy, especially for the female dancers in their long dresses and dancing shoes on high heels. Well, believe it or not, everything is possible with the right technique. I just rescheduled the knee bend workout which had been planned for Tuesday. Nevertheless, there actually was a little improvement from the year before – no flooding from an overflowing toilet in one of the three dressing rooms this time!
The whole comp was perfectly on schedule which was great – honestly, this is not something you would expect when coming to Italy. The floor was quite good as well, it was large and the music modern. The hosts spoke in Italian and English (with the traditional E-ending). The results were displayed very quickly after each round.
On the very positive note: there was a livestream for the viewers at home. This practice becomes more and more popular at the international competitions and I find it to be quite a big step forward.
The Town
Bassano is a nice small town with a charismatic city centre, pretty shops and a historical bridge. It is absolutely impossible not to fall in love with the cuisine. You can literally taste the freshness of all the used ingredients.
The Hotel
Last year we stayed in a kind of a family hotel called the "Zen Garden" where we had a homemade Apfelstrudel (a lengthy sleeve-like apple pie usually eaten in the central Europe) for breakfast. It was one of the reasons we wanted to stay there this year as well. According to the owner's pantomime performance, however, there had been a kind of a "problema" which had made "puff". We were therefore not able to stay there and we began a night journey through Bassano's accommodation establishments. In the first hotel a very nice lady gave us a two-minute speech in Italian, regardless of our rather blunt, not understanding faces. Nevertheless, we were able to figure out that she had a free room for one night but since we needed to stay two nights there, we would have to look somewhere else. She called, however, to another hotel which (thank God) was able to satisfy our needs. As a result we stayed in "Hotel dal Ponte" where we had to manage without an Apfelstrudel in the morning but the accommodation was good anyway.
Zen Garden: 60eur double room / night
Hotel dal Ponte: 80eur double room / night
Cost
Hotel 60-80eur for a double room / night
Starting fee: 50eur for 1-2 competitions, every competition above that costs +10eur (until 2 weeks before the competition) – if you pay at the competition, you will have to add another 20eur.
Fuel: Try buying as little gas in Italy as possible – the prices will drive you insane, about 0,30eur/liter more than in any other European country.