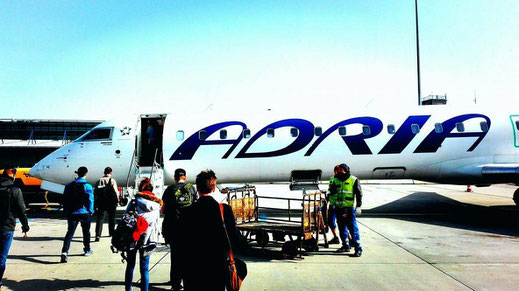 After a lot of rounds and a very short night in Bucharest, the next stop for Vasek and me was Ljubljana. In order to arrive in time, we flew back to Vienna where we took this cute little plane to Ljubljana. We then used our personal shuttle (sometimes called "mum") which brought us from the airport to the hall. Sometimes you just feel like doing crazy stuff, right?
The Comp
Ljubljana Open has a little surprise for the participants every year. Ever since I started going there (it was my fourth time), the competition has taken place in a different hall every single year. This year it was a very comfortable, airy and sunlit hall with enough space for the dancers behind the floor. Well, it would have been nice if it had been on the floor because after the large floor in Bucharest from the day before, this felt like dancing on a stamp.
Everythings seems to go according to the plan. I can neither complain about the music nor the speakers. There is a large screen hanging over the floor where you can see the time table, the heats, the qualified couples for the next rounds and the places of the not qualified couples. Unfortunately, the light in the hall is so strong that you can't actually see anything on the screen. There is, however, a smaller screen in the corridor where all the couples gather after each round.
Since the hall changes every year, you should be ready for everything. But one thing is quite certain. You will get a big colored stamp on your forearm at the entrance. If the blue stain does not particularly fit your dress color, you should be careful about where exactly this accessoire is stamped on your arm.
The Town
Ljubljana has a very nice small city centre to offer. After a few hours, however, you will have probably seen everything there is to see. A walk in the evening before or after the comp will therefore be sufficient. 
How To Get There
You can get to Ljubljana by car from Vienna in about 4 hours. There is no need to take a plane, unless you still were in Bucharest in the morning of the competition day.
Costs
Starting fee: 40€/Couple
Fuel: for 390 km
Flight: too expensive and unnecessary