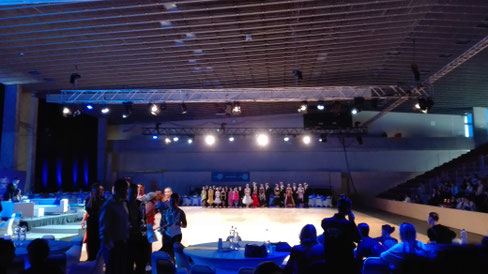 You simply do not want to miss the probably most amusing masters of ceremonies in the history of dancing competitions. A very nice and well organized competition.
The Comp
The BudaOpen is a very well organized competition. The check-in is quite fast, the dressing rooms large (like really large!) and bright with a lot of clothes racks where you can hang your dress. The benches are sufficient as well and there are even a few mirrors in the dressing rooms.
The hall is a little dark so it might be a good idea to wear a rather shiny dress. If you do not want to fall asleep in the darkness of the hall, I reccommend you to spend the breaks in the dressing rooms or in the sunlit cafe at the entrance. You can buy reasonably priced coffee and snacks there, Euro is accepted. The floor is large and not slippery, there is enough oxygen in the hall as well. The music is enjoyable and the dances are not played overly long. There is really very little to complain about. The heats and results are displayed on a screen beside the floor which has become standard practice at most competitions.
The masters of ceremonies are very nice and (partly unintentionally) witty. The participants are entertained by catchphrases like: "This is a kind of a good competition" (sounding like well, I've seen better ones but this one's quite ok, I guess), "This is the last quickstep, so please come everyone to the floor who missed the previous heats" (because it's not like you cannot choose your heat, right), and "You can warm up on the floor, but only if you want" (good, I have almost started feeling under pressure!). The masters of ceremonies are politeness itself, the dancers are flattered by names like "perfect couples", "beautiful couples" and "great seniors".
The only ones who probably do not feel complimented are the poor viewers: "You are a horrible audience!" But you know what, it serves you right, that will teach you to applaud the dancers next time!
The Currency
The Hungarian currency is Forint (HUF)
The current exchange rate is:
1 EUR = 312,23 HUF
100 HUF = 0,32 EUR
How To Get There
It's about 2 hours and 30 minutes by car from Vienna.
The Costs
Starting fee: 35€ for the early birds or 40€ if you are late
Fuel: for approx. 250km